Monument provides a medical solution to a medical issue, including options for FDA-approved medications to help you change your drinking. All treatment plans start with a pre-screener survey to learn more about you and a video call with a physician.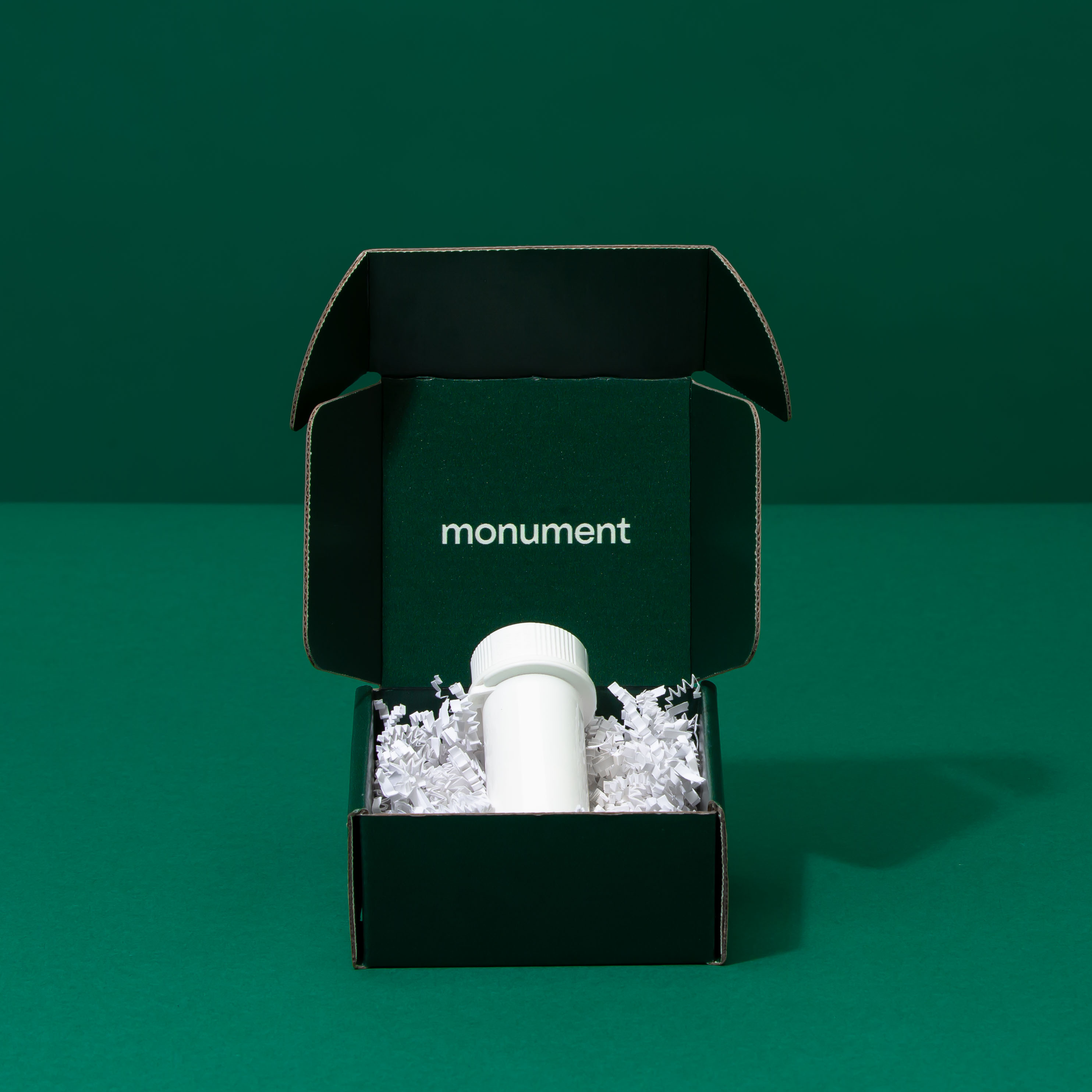 After an initial video call with your physician, they may prescribe either Naltrexone or Disulfiram based on your medical history and personal goals and preferences. Then, pending a prescription, your medication will be sent to your pharmacy of choice. As a default, we will send your prescription to Amazon Pharmacy, which delivers your medication right to your door. If you'd prefer to send your prescription to another pharmacy, you can do so by updating your preferences here. The cost of medication is not included in your plan but may be covered by your medical insurance. On average, 30 days of daily medication is under $40 per month without insurance and is a fraction of the cost with insurance coverage.
Here's more about the medication options, including important safety information:
Naltrexone helps combat cravings for alcohol while also blocking the rewarding aspects of drinking. This occurs because when naltrexone is present in the brain, alcohol cannot stimulate the release of dopamine. Naltrexone is an FDA-approved medication for those looking to reduce the amount of alcohol but also a medication to stop drinking alcohol altogether.


Disulfiram increases sensitivity to drinking alcohol and causes many effects of a hangover to be felt immediately following alcohol consumption by inhibiting the enzyme acetaldehyde dehydrogenase. Disulfiram is an FDA-approved medication for those looking to stop drinking alcohol.
Important Safety Information

Naltrexone
Naltrexone has the capacity to cause hepatocellular injury (liver injury) when given in excessive doses. Naltrexone is contraindicated in acute hepatitis or liver failure, and its use in patients with active liver disease must be carefully considered in light of its hepatotoxic effects. In the treatment of alcohol dependence, common adverse reactions include difficulty sleeping, anxiety, nervousness, abdominal pain/cramps, nausea and/or vomiting, low energy, joint and muscle pain, headache, dizziness, and somnolence. This is not a complete list of potential adverse events associated with naltrexone hydrochloride. Please see Full Prescribing Information for a complete list.
Disulfiram
The most common side effects of Disulfiram may include drowsiness, tiredness, headache, acne, and metallic-like taste in the mouth. Call your doctor if you have signs of serious side effects such as decreased sexual ability, vision changes, numbness of arms or legs, muscle weakness, mood changes, seizures, or confusion. Do not take Disulfiram if you are allergic to any of the ingredients. If you begin to have signs of an allergic reaction, then seek immediate medical attention. Avoid consumption of alcohol while taking this medication, as it may lead to adverse side effects. Talk to your doctor about the history of your medical conditions including if you have or have had diabetes, an underactive thyroid, brain disorders, liver or kidney disease, personal or family history of regular use/abuse of drugs. Certain drug interactions may lead to serious adverse side effects. Let your doctor know about any other medications you are taking. This is not a complete list of potential adverse events associated with Disulfiram. Please see Full Prescribing Information for a complete list.*Monument Inc. provides

administrative and business support services to

independent medical and clinical practices and providers. Monument Inc. does not provide medical or clinical services and does not own medical or other clinical practices. All medical services are provided by Live Life Now Health Group, PA d/b/a Live Life Now Medical Group. All counseling and therapy services are provided by independent licensed practitioners including licensed clinical social workers (LCSW) and licensed mental health counselors (LMHC). Individuals should contact their physician or therapist with any questions about their treatment.